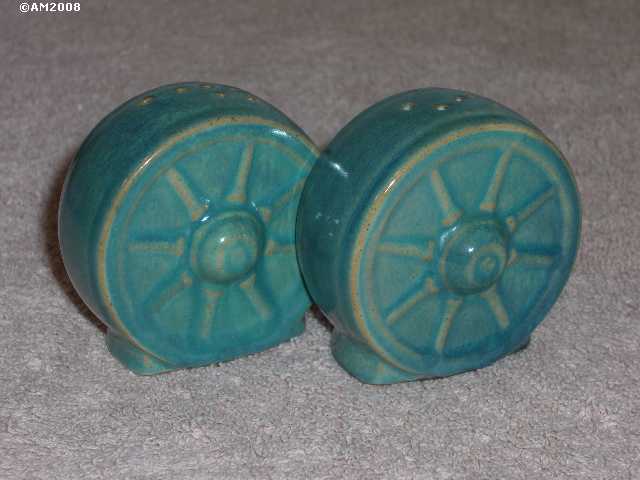 Although John Frank made items useful at the table from the very start of his business in 1933, the push to make and market full lines of dinnerware came in 1941.  A Wagon Wheels creamer marked "First Kiln, 7-2-41" is on display at the Frank home.  Presumably that is the first piece of Wagon Wheels.  By the end of the year John Frank had the new line including the 94H shakers in production and first presented it in the catalog of 1942.
By the time the 1943 catalog went to press John Frank had the full Myan-Aztec line ready to go to market.  Although the line is not pictured in the catalog the price list sent out with the catalog offers the full line, including the new 7H tall Myan-Aztec shaker.
Further developments awaited the plant expansion of 1948 when Frankoma introduced the new Oklahoma Plainsman line including the 5H tall Plainsman shaker.  The same catalog also introduces the 94HL Horseshoe shaker to compliment the Wagon Wheels line. In 1949 the Myan-Aztec line offered a short version of the 7H shaker with the mold number 7HS.  The next year the Oklahoma Plainsman line included a shorter version of that shaker with the mold number 5HS.
In 1953, responding to the changing times, John Frank introduced the new Lazybones dinnerware line with its strange 4H shaker.  This new cactus looking design had both the salt and pepper in the same piece.  This design, though radical, stayed in the Frankoma line until 2004, a run in excess of fifty years!
Lastly in the Dinnerware effort John Frank introduced the Westwinds line featuring the smooth simple lines of the minimalist movement.  The 6H shaker is attractive to behold, but you had best be holdin' it tight or it will slip right out of your hand!